Orthopaedic Camp October 2022
The October orthopaedic mission was, once again, a success. …
For this Africomed warmly thanks Philippe Besson who has become essential to the smooth running of these weeks of teaching! The X-rays could be done with the machine on site, although the machine had broken down several weeks before!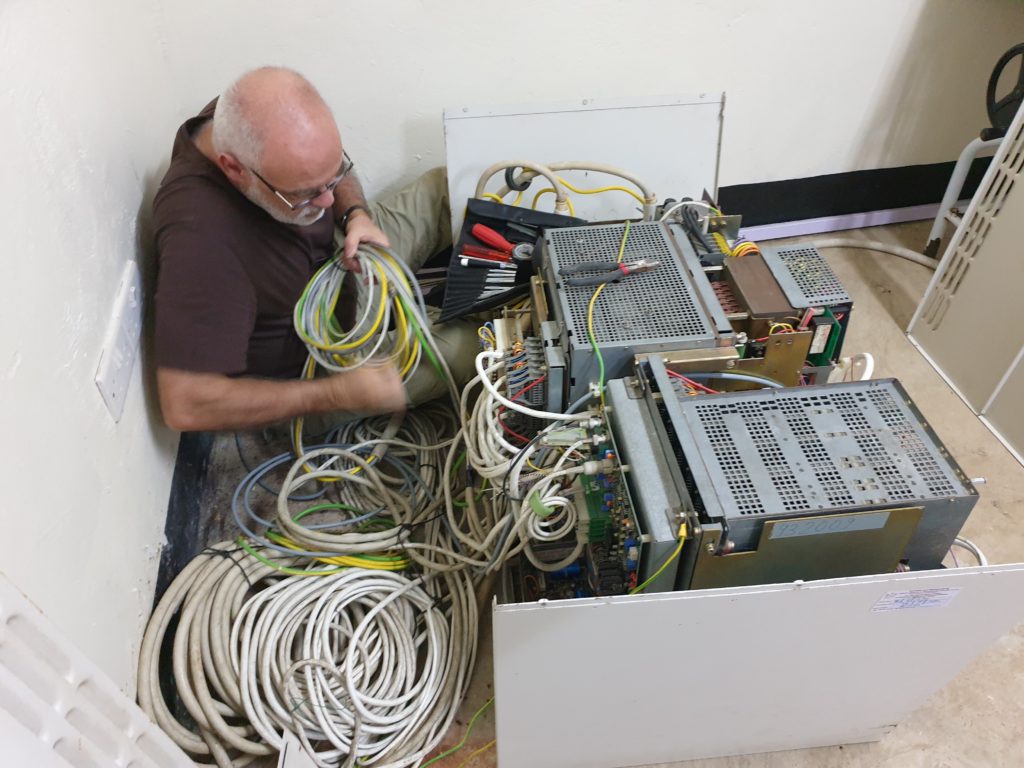 The C-arm Xray machine, the pride of the hospital, used for radioscopic imaging in the Operating Theatre. It was brought a year ago, worked before our arrival but the monitors let us down on the second day of surgery! Philippe managed to "tinker" with a backup monitor! The reason for the failure remains a mystery: the intermittent power ? The acid fumes from the disinfectant used to clean floors?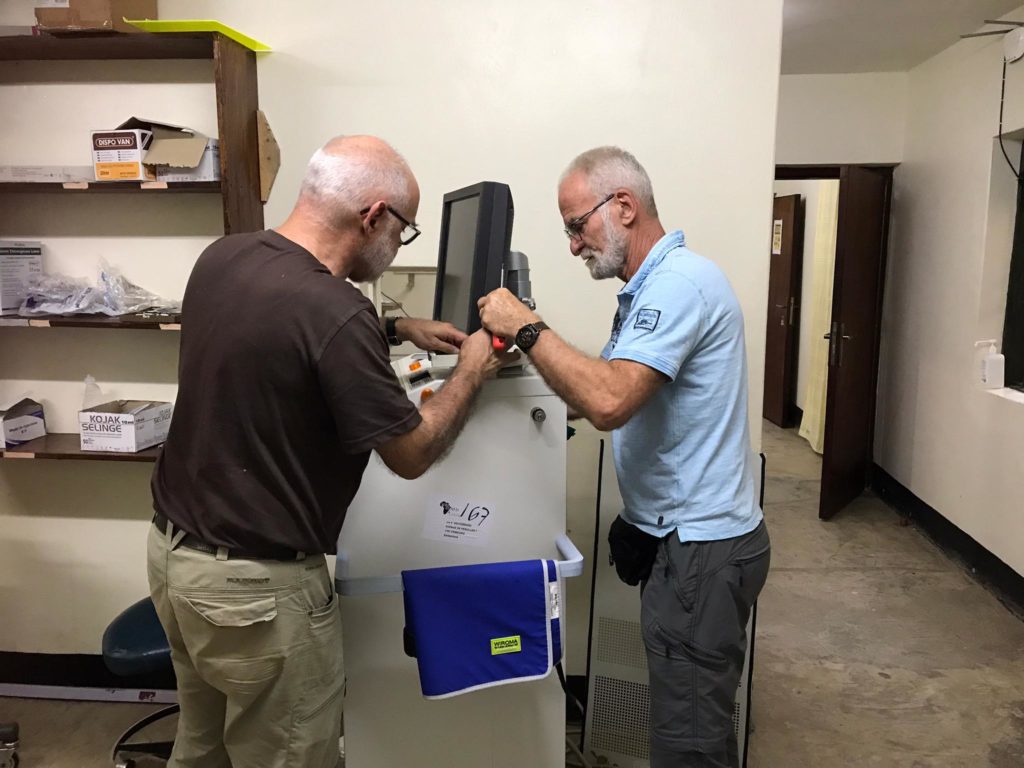 Two days were barely enough to see 49 patients and decide which operations could be performed, our stay being shortened due to a gynaecological camp a few days later.
There were 22 operations for 20 patients with the assistance, during the first week, of Asaph who will complete his orthopaedic training in May 2023. Also in May, Dianah will return to use her knowledge of physiotherapy.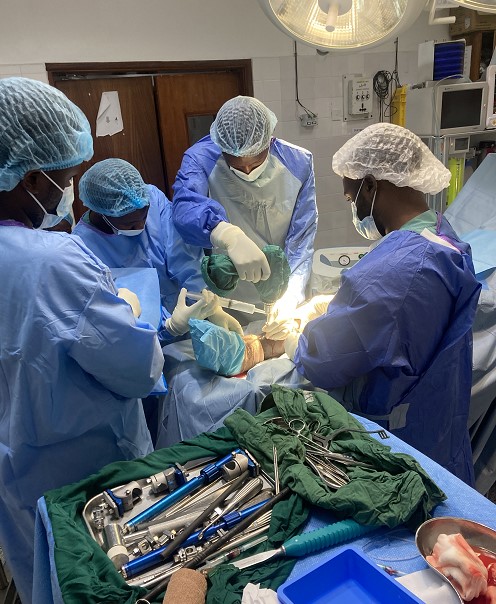 These two people, supported in their studies by Africomed, will from then on ensure the heavy burden that orthopaedic cases represent today: malformations, growth disorders, more and more accidents and especially random treatments with "bone-setters".
Correction of the varus of the right knee….the left will be operated in October 2023.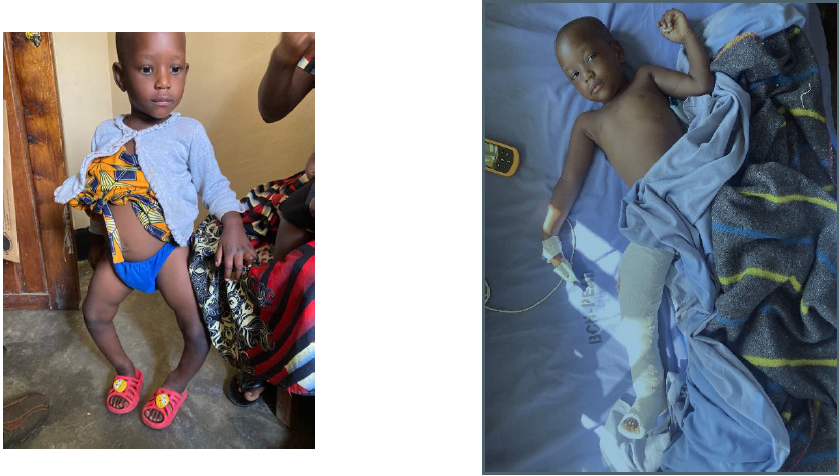 Osteomyelitis cases continue to abound as the treatment of open fractures is still not adequate or is…non-existent.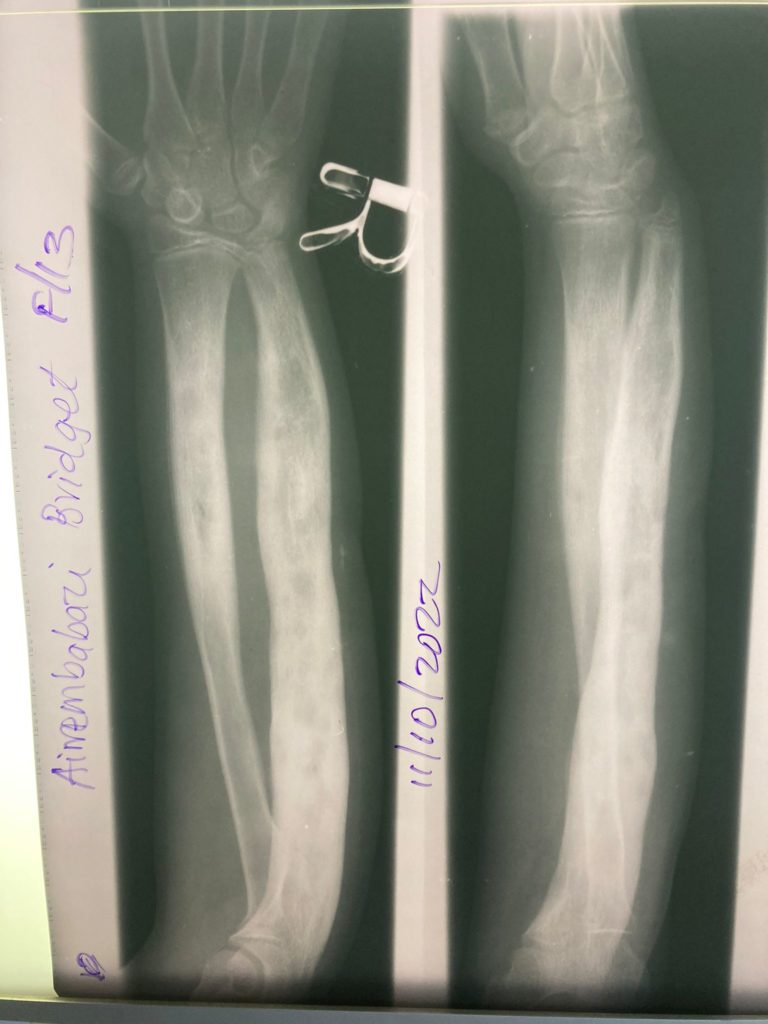 Although the hospital laboratory has developed considerably, this mission identified some problems: the identification of germs seems adequate but the antibiogram is unreliable. This explains why several antibiotics are used in combination for the treatments…unreasonable, not always effective and expensive!
We hope to return next fall with a laboratory assistant who would help solve this challenge.
This child is too young and will be reviewed in a year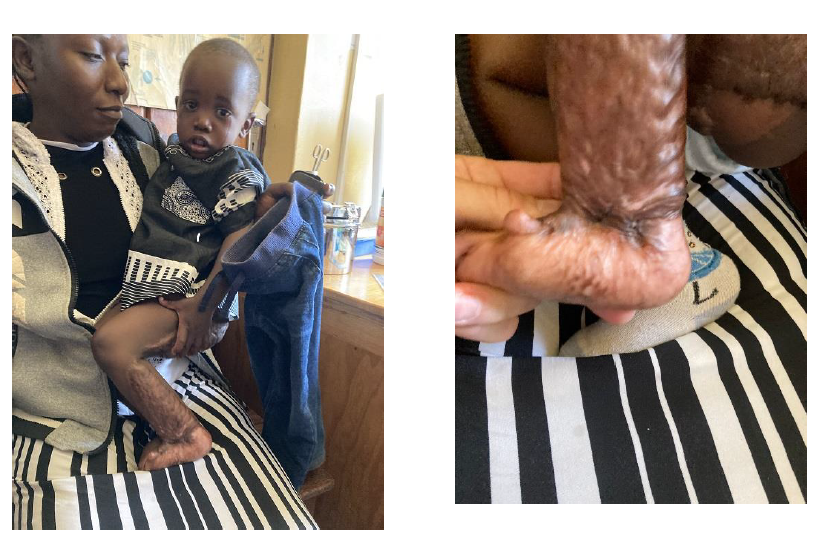 The digitization of patient files is underway, making it possible to find their medical history: the patients' history remains very arbitrary and many do not even know their date of birth …
Fortunately, we have some news from former patients who are close to our hearts: the two burned children, whom crowdfunding had helped treat, are doing well. They are in school and apparently happy. Unfortunately, it was not possible to see them again, as the trip to their village is a good day!
We also saw again a young man treated for osteomyelitis of the left leg last year and it was a pleasure to find that he is cured… But since one train can hide another, we did not detect at the time a hip malformation on the opposite side, for which we can unfortunately do nothing.…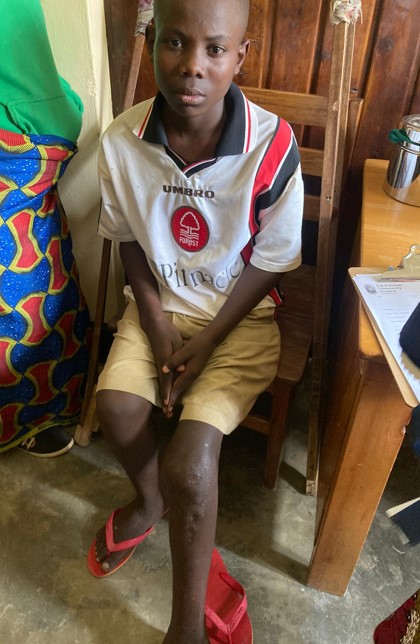 The feed-back of the urology camp last March is also positive: we know that one of the young urinary catheter carriers is cured, operated on in Kampala and back home. The second, unfortunately, undergoes repeated examinations because the first intervention in Kampala failed… We hope that the next intervention, scheduled for early 2023, will be successful. All the patients operated on during our stay , and several after we ldeparture, are doing well.
Once again the balance is positive: it remains for this hospital to no longer rely on our suitcases for the missing equipment and to learn to plan, a little ahead (not easy for people who have learned to live from day to day) both the need for equipment and staff.
One of the chief nurses wants to do a Bachelor equivalent in intensive care… We will support him… as well as the surgeon who decided to train in urology next year.
In March 2023, there will be new camp with the same urologist team!