APRIL 2017
We returned from Bwindi at the end of March after a very successful mission perfectly organized by the locals. And with our minds full of projects.
The extension of the operating theatre, which should start in a few days, will facilitate future surgical missions. However, in the meantime, we have become much more aware of the challenges posed by infections
The majority of the cases we treated on this visit were patients with chronic osteomyelitis who needed urgent and complicated operations. There were numerous cases of children with wounds or open fractures that had been treated with traditional herbal medicine and incantations.
Darius, a five year old, is a striking example: he had an open fracture of the tibia and the broken fragment was sticking out of his skin like a piece of dead wood, he was unable to walk. During the operation, the dead bone fragment was taken out of his leg like a thorn stuck in his flesh. His wound was opened debrided, and washed thoroughly. We have to hope that the remains of his tibia will now mend and that he will walk again! We have an appointment with him in a year's time.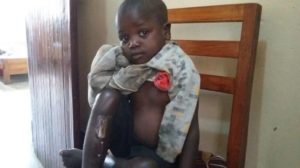 It has become evident that we need to urgently develop a means of precisely identifying infecting bacteria, in order to target the infections with the correct antibiotics. Currently, even though most of the bacteria are known, without follow-up no one knows whether the treatment has been effective or whether the bacterial infection is resistant to an antibiotic, as there antibiotics are often used indiscriminately. A project is being started and we will have to find a way to raise the funds.
To better develop our plans, it was decided to appoint project leaders: for orthopaedics, internal medicine, with infectious diseases as a priority and hopefully visceral surgery with, among others, urology.
Cervical cancer screening is also one of our projects: Uganda is one of the countries in the world where this disease has the highest incidence (47.5 / 100,000 per year, 2016). 80% of the women who come to a consultation are diagnosed with advanced cancer. They are young women, mothers of numerous children and an early diagnosis would make all the difference to these patients who cannot afford an operation, let alone radiotherapy or chemotherapy.
What about men? There are many neglected cases of prostatic hyperplasia, cancer and urethral stenosis resulting from untreated venereal diseases. Gideon, the surgeon with a lot of enthusiasm, has ideas to develop the urology department, but here the challenge is enormous: urological surgery equipment is extremely expensive and the surgery is very invasive.
Géraldine, our new vice-president, wants to organize a Christmas market in Fribourg for local crafts from Bwindi. She will return to Bwindi in September to collect them and in addition prepare for our next mission in October. In Bwindi she will meet up with Joanne, who perseveres in her project to develop a physiotherapy service. Joanne's participation in our last orthopaedic mission was an enormous success.